WELCOME
Hello. Welcome to The 4thekids web site. We hope that you take a couple of minutes to look around our pages. Before you leave please be sure to view the web fliers of missing children. After viewing the flier, we hope you'll print out one or two copies of the web fliers and post them in your community.
4thekids is a new group of web citizens that are dedicated to helping the families of missing children. Our members come from all walks of life. The membership of 4thekids is made up of grandmothers, fathers, doctors, nurses, mothers, lawyers, law enforcement officers, and representatives of some of the leading organizations for child advocacy. As diverse as we are, we all have one thing in common, that one thing is a big desire to do whatever we can to help missing children and their families.
National Missing Children's Day on May 25th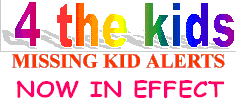 ---
It's The Law
The Missing Children Act of 1982, Public Law 97-292, and
the National Child Search Assistance Act of 1990, Public
Law 101-647, prohibit policies that establish waiting periods
for police reports and require the entry of missing children
information into the NCIC database.

Counter Reset May 23, 1999
Email: 4thekids
Copyright © 1999 "4thekids". All rights reserved.
Revised: April 22, 2000.